Back to basics: Reinforcing safety and reliability among continued NDNQI declines
Coauthored by Carole Stockmeier, SVP, Safety and Reliability Solutions.

Before the pandemic, the National Database of Nursing Quality Indicators (NDNQI®) and the Press Ganey safety culture survey saw modest but positive improvements in safety scores. But safety culture has worsened in 2020 and 2021, as the pandemic reached the U.S. [Figure 1]
Safety outcome scores also worsened in 2020, as healthcare organizations focused on COVID-19. Nurse burnout and unprecedented staffing shortages added fuel to the fire, piling on the stress to overtaxed workers in an already stressful environment.
Figure 1

Today, we continue to learn about COVID-19's significant and prolonged impact on safety outcomes. Our recent analysis of the latest NDNQI® numbers from 2021 shows that hospitals haven't been able to bounce back from the rise in safety event rates seen in 2020. In fact, rates have continued to worsen in several categories: central line bloodstream infection (CLABSI), hospital-acquired pressure injury (HAPI), and ventilator-associated events (VAE). Only falls seem to be normalizing. [Figure 2]
Figure 2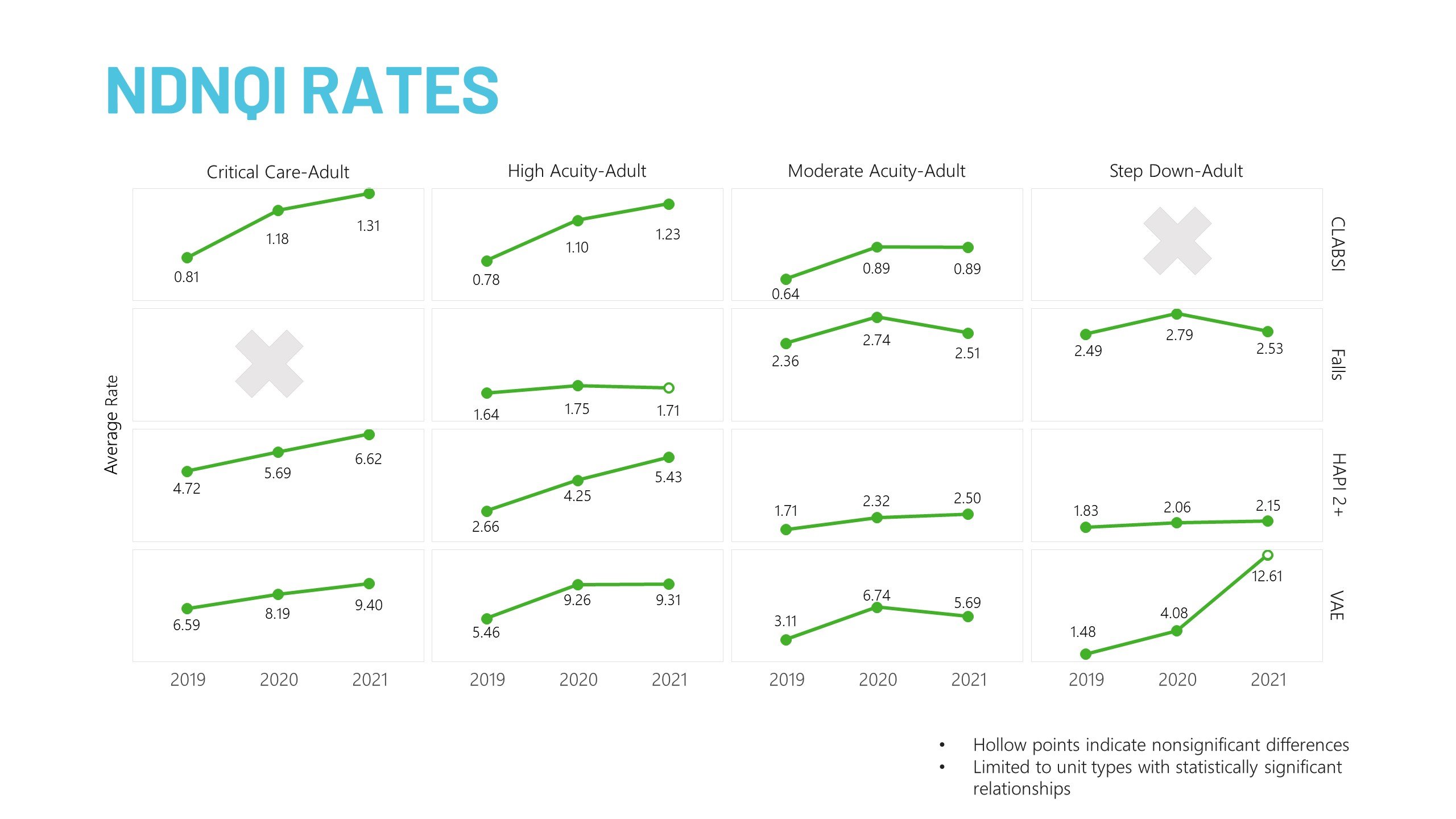 Now is the time to get back to basics—to reinforce the principles of safety and high reliability to achieve organizational resilience. By renewing commitments to the most foundational aspects of safety, organizations can begin to recover from widespread declines.
5 steps for getting back to the basics of a strong safety culture
Responding to the COVID-19 crisis pulled healthcare organizations away from safety culture. As they now dig deep to rise to pre-pandemic levels across all categories, they must return to the basics of a strong safety culture—and infuse these principles into everything they do.

1. Broaden the definition of "harm," and live your commitment to zero harm in word and in deed. This is step #1, because of its culture-shaping power and influence on the thinking and actions of every individual in the organization. When led from the top—by the board and the CEO—safety as the core value is evidenced in the moment-to-moment considerations and decision-making at the front line. If you don't do anything else, passionately message on the importance of safety first and zero harm. And, importantly, broaden the definition of "harm" to include emotional harm, on top of physical harm, to patients and employees across the continuum. For more on this subject, check out Zero Harm in Healthcare, by Tejal Gandhi, MD, et al. in NEJM Catalyst. And read more about "Messaging on Mission" as one of four safety culture first focus fundamentals.

2. Practice daily safety check-ins and unit-based huddles to identify safety risks. "The Daily Check-In is the most important 15 minutes of my day—I wish I had started practicing it years ago." We've heard this comment over and over again in our 20 years mentoring healthcare leaders in high reliability organizing. Daily Check-In, aligned with unit-based huddles, is a high-leverage practice for real-time awareness of safety and quality risks in your organization. Listen to Press Ganey faculty and Genemarie McGee, RN, Chief Nursing Officer of Sentara Healthcare, talk about the role of the Daily Check-In in high reliability organizing in our High Reliability Learning Series.

3. Improve event reporting and leverage Patient Safety Organization (PSO) sharing and learning. Improving safety starts with consistent safety event reporting. Solutions like Press Ganey's High Reliability Platform (HRP) help organizations support safety event documentation, engage team members, and refine processes to elevate safety scores. Learning is accelerated when we share with others and learn from the events of others. Learn more about Press Ganey's industry-leading PSO here.

4. Target specific areas for HRO-based process improvement. While many (if not most) organizations experienced a decline in safety and quality outcomes during the pandemic, the causes of that decline vary. When solving for safety and quality, understand first the individual failure mechanisms and system failure mechanisms unique to your organization. Press Ganey's experts combine the science of human performance with robust process improvement to drive positive changes, both tactically (i.e., for a specific clinical process) as well as transformationally.

5. Learn about high reliability organizing and the importance of adopting a high reliability operating system (HR-OS). Many regard "HRO" as an acronym for high reliability organization. But it's more instructive to consider HRO as an action—high reliability organizing. High reliability organizing is a deliberate undertaking, taken by leaders who are passionate about safety and shaping organizational processes and behaviors in a manner consistent with both preventing adverse events and assuring performance excellence. Many health systems had already embarked on focused safety and reliability culture transformation prior to COVID-19. We interviewed executives at those systems to understand the impact HRO had on how their organizations managed during the pandemic. Without knowing what lay ahead, these organizations' safety and HRO efforts formed the foundation for resilience during the pandemic. Learn more about these efforts here.
Since early 2020, healthcare organizations have been operating in survival mode—and, as a result, safety culture took a turn for the worse. Getting back to basics of safety and high reliability will not only improve patient experience in the near term, but it will also fortify your organization against future challenges.

Learn more about Press Ganey's HRO solutions, or reach out here to talk 1:1 with a safety and high reliability expert.