US emergency departments seeing unprecedented decreases in patient experience and patient safety culture performance post-pandemic
Coauthored by Heather Reed, Senior Director, Press Ganey Patient Safety Organization
During the COVID-19 pandemic, healthcare organizations have experienced decreases in patients' likelihood to recommend and other patient experience measures. Further, an analysis of national patient experience data has revealed unprecedented drops in Emergency Department patient experience specifically. (See Figure 1.)
Figure 1 (click here to expand)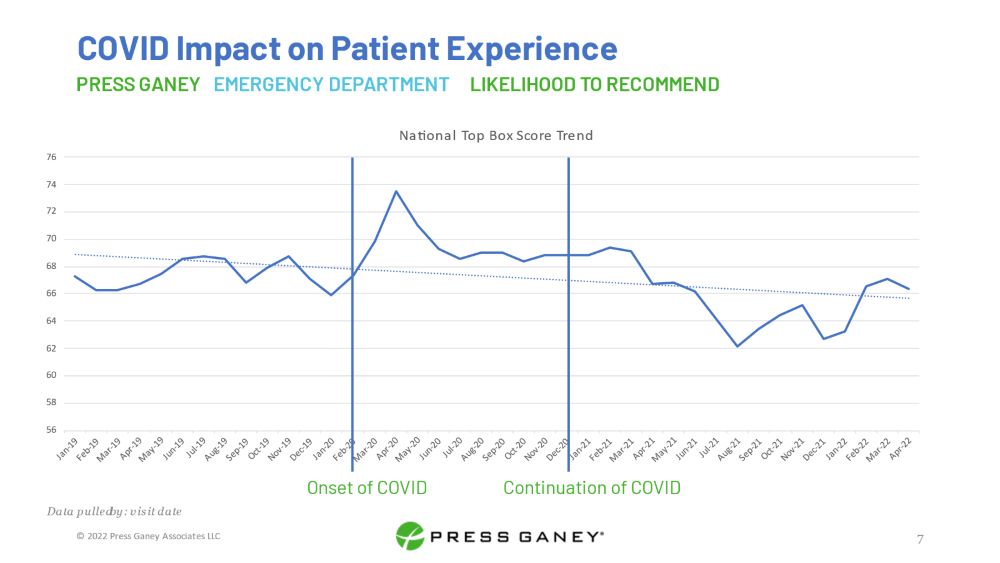 As we see significant declines in the Emergency Department patient experience, it is important to remember to assess safety and safety culture in this environment, given the strong connection between safety culture in healthcare and patient experience. The COVID-19 pandemic has led to significant declines in patient safety culture across the nation. In a new, deeper analysis of national Press Ganey safety culture data segmented by care setting (from September 2021 through May 2022), a notable finding was that ED safety culture performs worse than all other settings (Figure 2).
Emergency Departments (ED) performed worst on Safety Culture surveys when compared to other care settings including Ambulatory Surgery, Home Health, Inpatient, Medical Practice, Nursing Home/Rehab, and Outpatient Services, based on survey responses from both Emergency Department employees and physicians.
Perceptions of Safety Culture for physicians and employees are very aligned.
Figure 2 (click here to expand)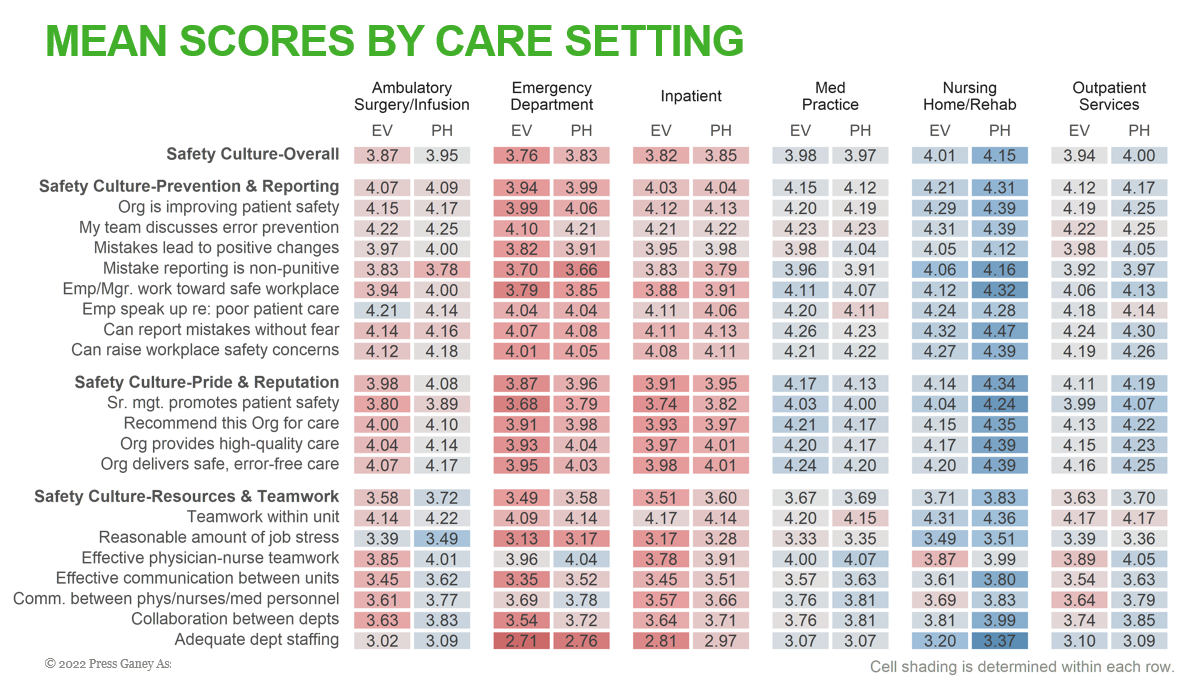 EV=Employee View, PH=Physician View
When comparing Inpatient and Emergency Department safety culture scores, the biggest differences in performance occurred in the Prevention and Reporting domain, which measures employee and physicians' perceptions of whether discussions of error prevention are taking place, whether the organization is doing things to improve safety, the ability to speak up for safety, the level of blame experienced when reporting errors, and the changes made based on error reporting.
Emergency Department scores were lower than all other care settings in all questions, except "Effective teamwork between medical personnel" and "Good communication between medical personnel," potentially a result of the strong bond between Emergency Department colleagues.
How Press Ganey can help your healthcare organization improve patient experience and safety culture in healthcare
Press Ganey Workforce Engagement Survey with Safety Culture Measurement: Press Ganey has the largest national database of safety culture data. Press Ganey's validated safety culture measurement and pulse survey capabilities provide real-time, comprehensive feedback from employees, nurses, and physicians. Ideally, safety culture is measured as part of an overall workforce engagement measurement strategy. When safety culture is measured, healthcare organizations are paired with safety culture improvement experts providing best practices for safety culture transformation.
Press Ganey Strategic Safety and Reliability Consulting: Press Ganey's Strategic Consulting experts specialize in strategy design and execution related to safety culture transformation and outcomes optimization in safety, quality, and patient experience. Safety and high reliability experts guide organizations along their journey to improve patient safety, having helped over 1,000 hospitals, integrated health systems, long-term care providers, and medical group practices reduce Serious Safety Event Rates® (SSER®) by 80% within two years, then sustaining these improvements over time. High reliability organizing principles and skills can be applied to improve any aspect of care, including safety and the patient experience.
Press Ganey Patient Safety Organization: The Press Ganey PSO offers cross-industry sharing and learning to support healthcare organizations on their journey to improve patient safety culture, leveraging Press Ganey's HRO-based approach to patient safety improvement. Members can take advantage of high reliability education from Press Ganey safety and reliability experts, insights from the PSO national database, safety alerts, and collaboration with fellow PSO members in an online community.
Press Ganey High Reliability Platform™: Press Ganey's High Reliability Platform™ is used as the frontline safety event reporting system by hospital staff, allowing for work assignments for individual users, strong action planning tools (accountability and closed-loop communication), and HRO-based root cause analysis methodologies for safety events that occur in the ED. This daily learning management system is utilized by safety leaders to target opportunities and identify trends in patient safety events throughout the health system as well as specifically in the Emergency Department.
Press Ganey ED Reset Solution: The ED Reset offering is designed to improve ED processes, throughput, staff reconnection to purpose, and the patient experience. This improvement is achieved through deep understanding of your data to gather insights that contribute to challenges in the ED as well as inpatient and medical practice environments that impede a patient's ability to access care at the appropriate level. These insights are leveraged to provide targeted training for leaders and staff to reconnect to purpose and promote problem solving at all levels. The culmination of the offering includes co-designing a roadmap for process improvement and coaching to successfully implement improvements for sustainable change.
The Emergency Department (ED) has been coined as the "front door" of a hospital. Not only does patient experience in the ED contribute to HCAHPS performance, the ED is a critical access point for patients to receive needed care. During the pandemic, the ED has been on the front lines—and we are seeing the impact in safety culture and patient experience data. Based on this worrisome data, it is imperative that organizations focus on the ED for safety culture and high reliability improvement efforts.
To learn more about our safety offerings, reach out to one of our patient safety culture experts.